2020 Best of Pompano Beach Award!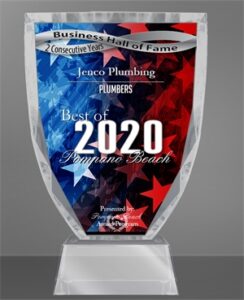 Jenco Plumbing is proud to announce that we have been selected for the "2020 Best of Pompano Beach Award" in the Plumbers category by the Pompano Beach Award Program for the second year in a row!
Jenco Plumbing is among a very small group of companies that have won the Best of Pompano Beach Award for two consecutive years. This distinction has qualified Jenco Plumbing for the 2020 Pompano Beach Business Hall of Fame.
Each year, the Pompano Beach Award Program identifies companies that they believe have achieved exceptional marketing success in their local community and business category. These are local companies that enhance the positive image of small business through service to their customers and community. These exceptional companies help make the Pompano Beach area a great place to live, work and play.
Various sources of information were gathered and analyzed to choose the winners in each category. Recognition is given to those companies that have shown the ability to use their best practices and implemented programs to generate competitive advantages and long-term value.
We are honored to receive this award for 2020, and love being part of the Pompano Beach community! Why Choose Jenco Plumbing?
For more than 20 years, Jenco Plumbing has been family owned and operated, providing Pompano Beach and the surrounding areas with the highest level of professional plumbing services available.
As a Master Plumber, owner, Wayne Jenkins, provides educated and honest answers to your plumbing questions. As a team, Jenco Plumbing takes pride in their work and focuses on providing quality service with integrity. You can trust Jenco Plumbing to assess and address your plumbing problems at a fair price.
Our clients said
Had a leak under my concrete slab and no one could find it to fix it. Called Jenco and it took them about 20 minutes to find the broken pipe leak and 3 hours to fix it. Good plumbers!~Tommy A.